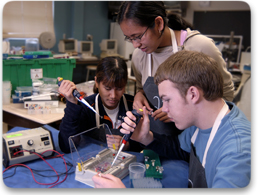 12 Kits: (Micropipet types—6 Gilson/Rainin, 5 Ulster, 1 Finnpipet; Oxfords in EO kits)
3 Crates per Kit
This kit offers a menu of activities for learning the principles of electrophoresis. After learning the basic technique, students progress to using agarose gel electrophoresis to separate mixtures of molecules. The Dye/Indicator Lab separates various dyes/pH indicators based on charge and size. The two DNA Labs allow students to separate DNA molecules based on size. DNA Lab 1 uses precut DNA samples. DNA Lab 2 incorporates restriction enzyme digestion of lambda DNA.
The Elephant Project curriculum sets a realistic context for using gel electrophoresis. Generally teachers check out both an Elephant Trunk and a Gel Kit.
PCR supply users will need gel electrophoresis to visualize their results.
NOTE: Teacher supplies distilled water to dilute running buffer and a heat source to melt agarose.
Each year New England Biolabs generously donates DNA and enzymes that help make it possible for SEP teachers to use the kits and learning experiences in their classrooms. www.neb.com