Skip to Main Content
It looks like you're using Internet Explorer 11 or older. This website works best with modern browsers such as the latest versions of Chrome, Firefox, Safari, and Edge. If you continue with this browser, you may see unexpected results.
Protocol Description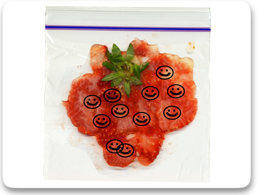 A quick and easy DNA isolation protocol using common household ingredients.
We use strawberries, but some other fruits can be used as well like kiwis and bananas.
Citrus and apples do not work with this protocol.
Additional Web Resources
Morphology and Physiology of the Strawberry

Go deep into the strawberry plant with this article by G. M. Darrow.

Plant C-value Database (DNA content per cell)

C-value is the haploid amount of nuclear DNA per cell in a species. This database is hosted by the Royal Botanical Gardens or Kew Gardens. You can use this information to estimate the maximum amount of DNA you might extract from a plant tissue sample.

While you are at the Kew Gardens main page, take a look at the videos and the scientific research links. This website is a splendid resource on plants.
Strawberry DNA Table of Contents